So with the clocks going back on Sunday (29th October), The nights will become shorter…I don't know about you, but this gets me all excited! and with Halloween just around the corner and Christmas coming round faster than we think I am well and truly content right now.
 1) Outdoor Activities
The best thing about this time of year is being able to get all wrapped up in wooly jumpers, coats, and big boots and going for walk, seeing as we have the dog we have to take him our daily, but its just something about the time of year when the leaves fall from the trees and the crisp air makes its so much more special.
2) Halloween
I don't know where to start with Halloween! I just bloody love it! I am very competitive, and each year at work they host a best-dressed desk competition! and of course, our department has won two years in a row….not like I'm bragging or anything. I also loved trick-or-treating as a kid, my brother & I would walk around the whole village (Which wasn't that big) in our amazing Asda costumes and then count how many sweets we had at the end of the night, eat too many sweets and run around like a mental child.
3) Christmas Countdown
This one speaks for itself! – Christmas is just the most wonderful time of the year –  I know I'm sad!- I'm so excited for all the festive days out, Christmas films and the Weather! Personally, I would love for it to snow! but I'm sure we won't be that lucky!
4) Cosy Nights In
Staying in and watching Crap TV is just bliss for me. There is nothing I love more than getting in comfy clothes, fluffy socks, making a coffee and chilling for the night, no plans or reasons to leave the comfort of my bed! LOVE IT!
5) Food & Drink
The Cold weather is always the perfect excuse to cook amazing comfort food! Now I am on slimming world it doesn't mean that Comfort food is a no-no, but the variety of recipes I can find on the slimming world website and online is amazing! Soups, Stews, Pies you name it! And I plan to cook loads of amazing Comfort Food Recipies this season!
6) Excuses
This is my favorite one of them all! I love this time of year when you can get out of any social situation,. I love spending time watching youtube or reading so when it comes to social situations I'm…not the best. When it starts to get colder you have no reason to venture out and "Socialise" and a simple "Sorry I have a cold" works most of the time! (kinda)
7) Clothing
I've never been a fashion-forward girl, Leggings, Boots, Fluffy Jumpers and comfy coats are my go-to, now the weather is dropping I am in my element! I love being warm and cozy but most importantly comfy, and nothing is better than leggings and a big oversized jumper!
8) Bonfire Night
The 5th Of November is drawing closer! I LOVE bonfire night, ever since I can remember I loved watching an array of different fireworks light up the sky, I love wrapping up and heading to our local Park where an organized firework display is held each year! 
9) The Beautiful Colours
There's just something about Autumn and the changing weather that gets me all excited. The Fallen Leaves, the different Shades of Orange, Red and yellow just makes it so magical.
10) Seasonal Markets & Days Out
Where do I begin, I LOVE Seasonal Markets, The Atmosphere, the Food and especially the drinks! Brad & I take a trip every year to the Birmingham Frankfurt Christmas Market. Each year we normally travel on the train to Birmingham new street and make a day of it, I love walking around, finding special gifts for my family and friends, and trying all the different food there is to offer, I especially love the German sausages (bratwurst, currywurst, Krakauer, Kasewurst, Feuerwurst) and also the Hot Chocolates (Most of the time with lots of Baileys in!) I also love to visit different towns over the winter periods and experience different markets and atmospheres.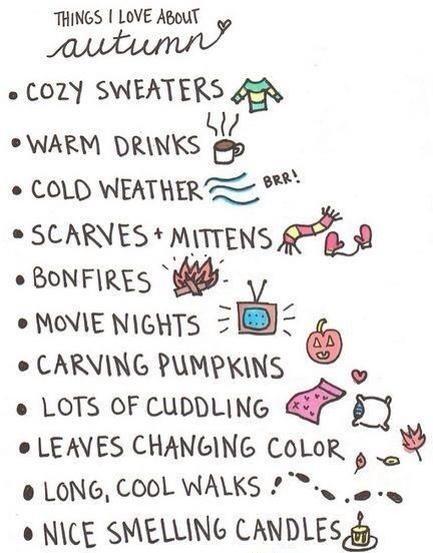 I just loved this photo! – Found On Pinterest.
I hope you enjoyed reading my favourite things about this beautiful time of year! I hope you pop back over soon!
BlogLovin! – https://www.bloglovin.com/blogs/simplyshancouk-19134397